On Sundays we always have busy mornings and relaxing afternoons; just the way I like it. For some reason I expect our 17 month old to behave in church and I always end up sweating 10 minutes after we arrive because he is ALL OVER THE PLACE. He decided to chuck his shoe at the row in front of us and proceeded to laugh when the nice gentleman handed it back to us. Our 4 year old laughs at him which only encourages him even more & Doug and I can't help but smile at eachother. Doug usually takes Roman in the back 30 minutes in and I get to snuggle Ripken for the last half hour of mass. I'm sure we are super distracting to other families but that is the stage of life we are currently at and I wouldn't change it for a thing. After church we grabbed coffee & donuts, checked out the Mr's new office space (they just finished framing the interior, yay!) and attempted to get Roman's hair cut for the first time. I'm not ready to get rid of those sweet baby locks so the stylist barely touched his sweet head. I'm just going to accept the fact that until we give him a 'big boy' hair cut, people are going to continue to mistake him for a beautiful baby girl.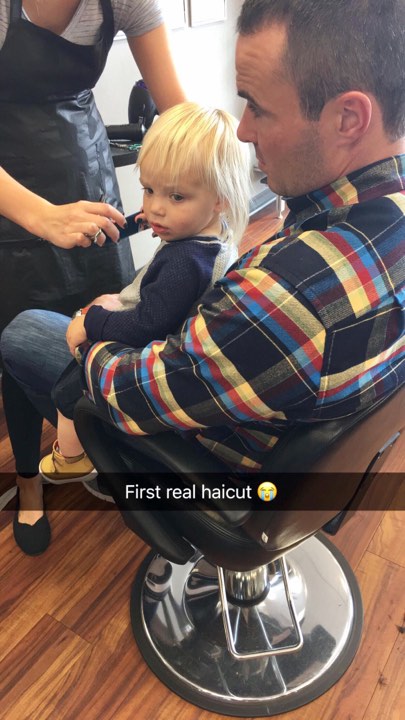 This bell sleeve sweater is so soft and comes in two colors. The sleeves are so girly and fun! My distressed jeans are currently on sale for 40% off and are super flattering. My favorite booties are 20% and will be on repeat all season long (order 1/2 size up) & this Tory Burch satchel is perfect for Fall.
Bell Sleeve Sweater (On sale, only $28!)
Distressed Jeans (40% off! Runs big, order one size down)
Booties (20% off!)
Tory Burch Satchel // Get it HERE or HERE
Stacked Rings (66% off!)
Tory Burch Earrings // Get them HERE or HERE
LipSense in 'Luv It' // Get yours HERE
Enjoy the rest of your weekend & happy shopping!
-Madeline